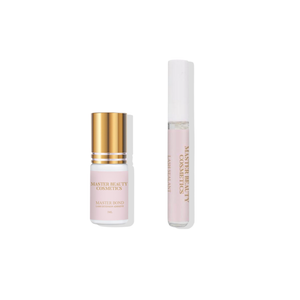 Lash adhesive 
Our best selling adhesive for eyelash extensions. The name speaks for the glue itself, the Master of glues. This glue has a huge humidity range of 50-60%. It has a 0.5 second drying time and works best in temperatures of 18-25 degrees. Retention of 6-7 weeks and low fumes. Best paired with our Lash Extension Sealant.
 Lash Sealant 
Introducing our lash extension sealant! This product can be used both professionally and personally. For lash tech use wait 5 minutes after completing the set of lashes. Using a micro wand, apply the sealant to the base of the lashes. For client use, apply using a micro wand 2-3 times per week. Glide the micro wand across the base of your lashes to seal and increase retention.
Best paired with our Master Bond adhesive for further improved retention. 
*Please note - If ordering to the USA, we cannot ship liquids there currently*